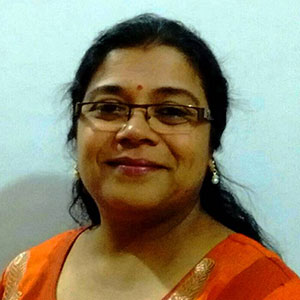 Shoba Menon: Shoba Menon is a dedicated Kindergarten teacher for many years. Before she took up her position at centre head of KiDeens at Ramagondanahalli, She was section head of UKG at both KiDeens on ECC road and later at the Borewell road campus. She was then  promoted as  Coordinator for the Kindergarten section at The Deens Academy Gunjur.
Though she is a Commerce graduate , her fascination for Montessori encouraged her to be formally trained at  'Daphne's International Teachers' Training Institute. She has been our chief trainer for Montessori activities for KiDeens Teachers since its inception.  Early in her career at Deens Academy she took up the Teachers Training Foundation course  and her focus has been to ensure every child who graduates from  her class has a firm foundation when they enter Primary school. For this purpose at UKG she has also conceptualized and conducted an Individualised training program.
" Each child is special" is what she believes in.